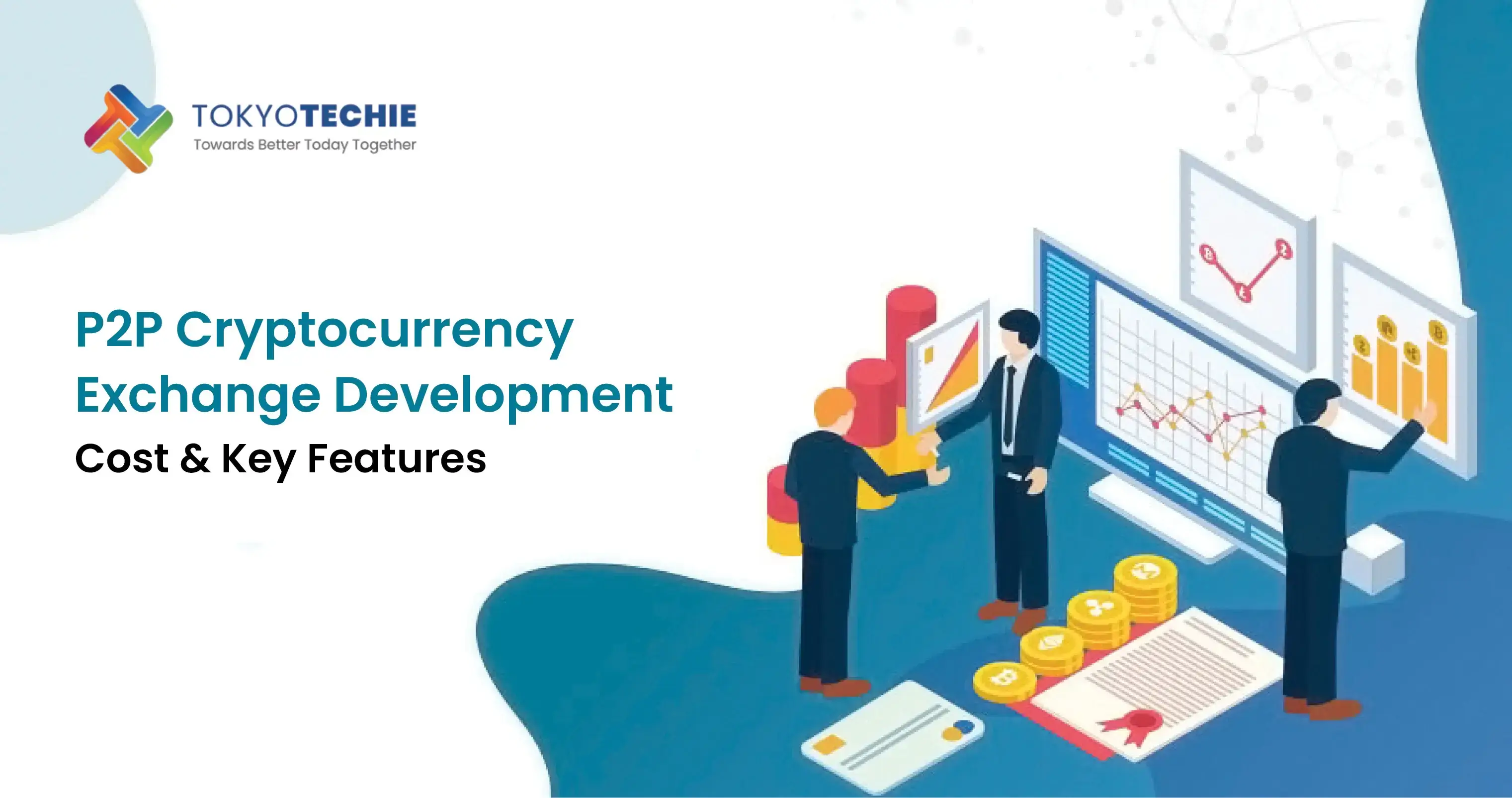 P2P Cryptocurrency Exchange Development Cost & Key Features
Cryptocurrencies can be traded between two people without the intervention of an intermediary. It is possible to safeguard user privacy as well as their unique identity in this decentralized and peer-to-peer ecosystem. Two parties are automatically connected based on mutually agreed upon terms when using a P2P cryptocurrency trade. Instead of going through the order book, a peer-to-peer (P2P) crypto exchange matches the people behind the transaction orders.
B2B and B2C enterprises are embracing peer-to-peer bitcoin transactions because of their unique working techniques. Businesses will benefit greatly from a P2P setup because most people now utilize blockchain-based crypto wallets to conduct transactions quickly.
Features Of P2P Cryptocurrency Exchange Software
Multiple Cryptocurrency
Many cryptocurrencies are available for trading, including Bitcoins, Ethereums, Dogecoins, and so on. You can use any of these cryptocurrencies if you have support for several cryptocurrencies. Developers can eliminate the need for consumers to switch between multiple applications in order to transact in multiple cryptocurrencies by implementing this capability.
Multi-Lingual Support
Multi-cryptocurrency wallet development has grown in popularity over the past few years, which necessitates delivering material or a platform in different local languages. Request that your developers implement multilingual support in the platform. For this reason, readers can read all the material, including the Terms and Conditions, in their native language.
Robust Trading On Exchange
A clear user interface, cutting-edge technology, and simple processes will be used to speed up transactions. The transactions will be completely safe and secure at all times. Our programmers will create a trading platform with the highest level of security to assist you in making safe transactions.
Automated KYC
An exchange platform must have an automated KYC/ID/AML verification feature these days. For better solutions, it allows the administrator to swiftly and efficiently discover the right people. Additionally, it removes hackers and other security threats.
Crypto Swap
Coins can be swapped between exchanges. When it comes to exchanging one cryptocurrency for another, this is the most convenient method of doing it. Holders of cryptocurrencies can now do so in your private key wallet or in your trading account by using this functionality. Using the trading account, on the other hand, provides immediate settlement and avoids network expenses.
Multi-Factor Authentication
Users and administrators alike will be able to take use of this new security feature. Our platform will notify verified users through email and include Google 2FA to ensure that your account and data are safe from any unwanted activity.
Preferred Trading
Today's exchanges offer a variety of trading choices so that customers can make a large profit by trading in a method that suits them best. In order to maximize profits in the shortest amount of time, users can select their favorite sellers and ensure that their trades go as smoothly as possible.
P2P Exchange Development Process
Typically, each P2P Crypto Exchange Development Company team adheres to a same procedure. They will begin by researching the concepts and needs, followed by the development of the platform, the design phase, and finally the delivery of the solution. However, the procedure is described in detail below.
1. Idea and reserch
We will schedule a meeting to discuss your proposal and attempt to determine its scope. Our development team will also participate in the conversation. Our experts will conduct the necessary research, collect the necessary information, analyze the market, and verify. In addition, we will provide you with documentation that outlines the development process's strategy, available services, projected outcomes, and schedule.
2. Design
We will exhibit a prototype or samples of designs that can be applied to the platform. It will also provide an accurate representation of the platform's appearance and functionality. Before presenting you with the design alternatives, they have been thoroughly studied and examined. We will also ensure that the design adheres to the specifications and your ongoing feedback. In addition, we recognise that the platform's layout is intuitive and appealing.
3. Development
After confirming everything on your end, the following step is to integrate everything together and construct a solution that is 100 percent functional and straightforward to comprehend. During this step, the trading engine and other integrations will be installed.
4. Integration
The action entails integrating many blockchain-based technologies into the solution. We will ensure that the solutions we develop are technologically advanced and well tested in order to compete on the market of the future. We will also ensure that all essential features are incorporated and functioning properly.
5. Token Listing
In this phase, we will ensure that your tokens are listed correctly on the platform. We recognise that your end-users will invest in many currencies, and as such, the token list and accepted currencies must be kept up-to-date as needed.
6. Provision Of The Resolution
Before delivering the solution, we will confirm that all features and functions are present and functioning properly. We will also be responsible for delivering a faultless, well-developed solution that meets all requirements.
P2P Exchange Development Cost
It is a well-known truth that the price of a solution that deals with cryptocurrencies and blockchain remains a bit more than that of standard on-demand services. In addition, these solutions need mining and other complex operations. However, the price is also dependent on the following:
Location of the company from whom you outsource services.

Integrates and demonstrates complexity

Safety and Security Factors

Development requires time.

Number of Developers Required

Extra services
If you want to make enormous profits and join the market with a sturdy platform that will allow you to remain in the market for the long term, choose a reputable firm with some expertise.
Tokyotechie is here for you if you are looking for a top P2P cryptocurrency exchange development business with experience and a solid reputation. The organization has completed over one hundred bitcoin exchanges and projects.
Benefits of our P2P Exchange Software
Institutional-grade security

Lightening speed transactions

Self-explanatory interface

Scalability

Quick time-to-market

Built by blockchain experts
FAQ:
Is P2P crypto exchange the future of crypto trading?
Blockchain technology and the cryptocurrency industry are continually evolving, with daily developments and upgrades. As a result, the P2P crypto exchange development company is the same as any other; innovations are always being developed. There are numerous reasons why peer-to-peer crypto exchanges may represent the future of the cryptocurrency trading business.
Global Marketplace

Revenue

Access to Restricted Markets

Security

Multiple Payment Methods
How does a Peer-to-Peer (P2P) crypto exchange work?
P2P trade is based on the underlying blockchain notion of decentralization. It enables buyers and sellers to conduct business without the intervention of a third party.
How much does it cost to build a P2P crypto exchange?
The cost of development is contingent on the elements you choose to incorporate into your exchange. Nevertheless, the cost and time needed to construct a white label exchange are far less than those needed to develop a customized exchange from the beginning.