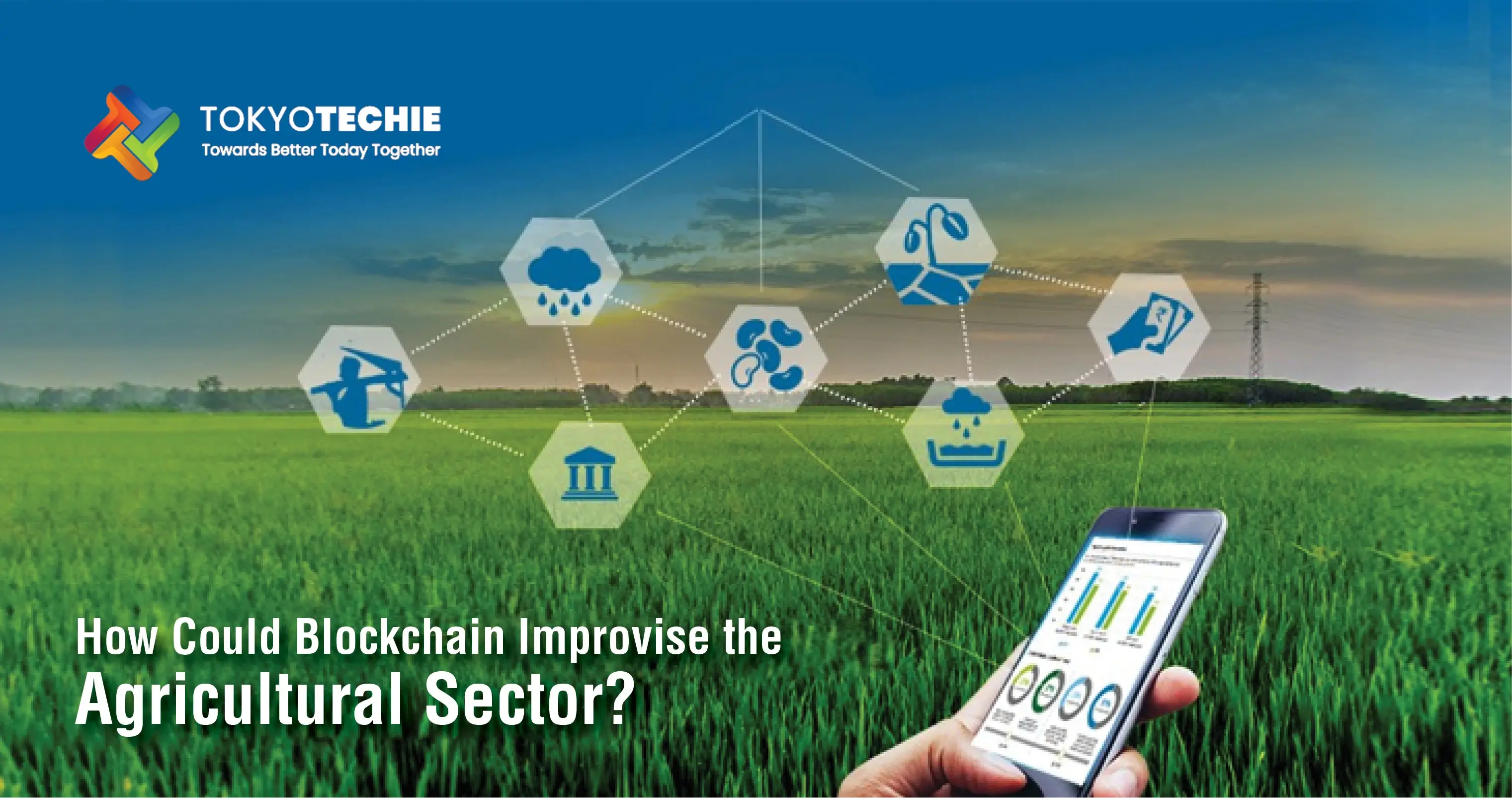 Blockchain Technology in Agriculture
Nonetheless, Agriculture is a massive business in need of blockchain solutions, as the agricultural process's various complexities inhibit efficiency and lead to dangerous food goods at the terminal. Agriculture has an essential part in the global economy of developing nations. The expanding population necessitates the development of cutting-edge agricultural techniques that maximize productivity. Improving the agricultural business with growing blockchain technology could have an impact on all of us and facilitate the everyday consumption of safe meals.
Let's realize the true potential of blockchain technology in agriculture.
Real Time Scenario Around Agriculture
The world is currently undergoing fresh transformations. Agriculture has traditionally played an essential role in promoting global life and well-being. It is the most important source of income in many nations, with close to 60 percent of rural households reliant on it financially. Advancements in technology bring about numerous new modifications in agriculture, boost the expansion of farm exports, and facilitate efficient outcomes.
Now, you can receive food supplies from any region of the country at your front door. It is very incredible!
All of these items are positive. However, the question concerns safety. How could we possibly think this is safe? The absence of openness creates security concerns. In addition, a number of variables have contributed to the agricultural process's inefficiency.
Descriptions of the limitations in Agriculture
Cluster Manual Workflow

Insufficient Transparency

Numerous Intermediaries

Centralized Administration

Centralized Administration

Fragile Data Administration

Lack of Security
How Can Blockchain Technologies Be Used?
Agriculture may be impacted in various ways by blockchain solutions. Notably, there are three use scenarios,
Plant Production

Storage and Distribution

Agricultural Finance

Plant Production
Blockchain is a ledger technology that increases agricultural productivity. Intelligent contracts would play a vital role in facilitating efficient outcomes. IoT sensors will be utilised to collect data from farms since the integration of blockchain and IoT is so valuable.
Integrating Blockchain and IoT enables the generation, storage, and processing of data for efficient transactions.
Let's go into it.
A group of Internet of Things sensors must be installed in agricultural farms. It gathers information regarding soil, temperature, climate, and other variables. They will be incorporated immediately into the blockchain. Now, smart contracts would be activated and these details would be validated with a variety of standard metrics. If it is matched, executions will begin. For example, if the cultivation temperature is selected, it can send notifications for the operations. If not, they will notify the farmer before it exceeds hand size.
All critical parameters can be communicated to farmers via alerts, which could boost the efficacy of agricultural production. In addition, with the use of smart contracts, all procedures might be automated, expedited, and protected.
Uses Cases of Blockchain in Agriculture:
Crop and Food Production
While increasing profitability despite unfavorable environmental conditions, the agriculture industry faces numerous obstacles, including:
-meeting the needs of an expanding population by cultivating more food using fewer resources
-reduction of ecological footprint
-maximizing client satisfaction
-promote supply chain transparency
-ensuring appropriate compensation for farmers
-managing weather variations
The food manufacturing industry is being transformed by the combination of blockchain and IoT. Using a streamlined strategy to optimize farming resources, such as:
-water
-labor
-fertilizers
Food Supply Chain
Food Supply Chain tracking is essential for tracing the origin of food. It assures that the supplied food is safe to consume.
However, due to the existing management of the food supply chain, it is difficult for food manufacturers and retailers to authenticate its origin.
With the advent of blockchain technology, it is now feasible to bring trust and transparency to the food supply chain ecosystem, ensuring everyone's food safety. Continue reading to discover how.
How can a blockchain-based food supply chain prevent food fraud?
Using the techniques outlined below, the blockchain food supply chain can prevent food fraud.
Step 1: IoT sensors providing data or Farmers storing data
Step 2: Distribution of harvested crops to food processors
Step 3: Supplying Wholesalers and Retailers with Processed Food
Step 4: Customers can trace the supply chain backwards.
Controlling Weather Crisis
When cultivating a variety of crops, farmers must typically contend with unpredictability of the weather.
Therefore, weather forecasting and monitoring are vital for crop viability.
Many crops planted in the United States cannot withstand flooding caused by excessive spring rainfall. The oxygen concentration becomes zero, making it impossible for plants to execute vital processes such as water absorption, root development, and respiration.
Moreover, the lack of transparency in the present ecosystems of the food chain might result in unclear and expensive price spikes. Consumers are unaware of when the crops endured adverse weather conditions and what caused the price increases.
Due to blockchain's capacity to provide traceability and transparency, farmers and other stakeholders will have a clear grasp of food distribution market pricing discrepancies.
Since authorized parties may track weather conditions using the blockchain ledger, crop insurance claims can be processed rapidly using smart contracts.
Managing Agricultural Finance
There are various obstacles facing formal financial inclusion and smallholders, such as a lack of transparency, credit records, and difficulty in contract enforcement.
The inability to access financial services can negatively affect the performance of agricultural value chains, which may result in:
-producers who do not optimize their yields
-buyers who face difficulties ensuring an efficient supply of commodities
It makes it impossible for purchasers to pay farmers upon delivery, pushing poor smallholders to sell their commodities at a discount.
The financial services make it possible for small farmers to:
-invest in agriculture
-relieve liquidity limitations
Blockchain offers justice to the agricultural funding process through its accessibility and openness.
Benefits of Blockchain in Agriculture
Improved Inventory Management
In truth, many agricultural businesses are not able to manage their stocks using current technology. This can lead to the waste of resources and products. Not to mention the losses that farmers must endure as a result. Therefore, this is a tremendous strain for the farmers, as they lack the essential resources to address the issue.
But blockchain technology in agriculture can permanently alter this situation. The blockchain is ideal for inventory management. Therefore, it may greatly assist farmers in maintaining their stock precisely and without problems. The reality is that blockchain can monitor the storage environment and alert you when food is about to expire. Therefore, you can take the necessary precautions.
Increasing Agricultural Supply Chain Productivity
The increased industry-wide efficiency is another excellent example of blockchain technology's application in agriculture. This industry's inefficiency is a result of a lack of automation and technological implementation. In actuality, it is more common for small to mid-sized farmers to lack access to high-priced technology that boost the total production efficiency.
Consequently, blockchain technology can undoubtedly assist here. Using a blockchain-based, immutable ledger system, it is possible to swiftly handle all elements, minimize the cost of agricultural procedures, and improve the total output efficiency.
Modernizing Farm Management Software (FMS)
A further advantage of blockchain technology in agriculture is the updating of farm management software. In actuality, farm management software will soon become standard practice. However, this programme continues to run using the conventional client-server approach. Consequently, companies are unable to deliver their maximal output as they could with blockchain.
In this instance, utilizing blockchain can assist the FMS reach an entirely new level. Moreover, this software will have the security customers require thanks to blockchains. Therefore, farmers will no longer have to worry about cyberattacks.
Security for Agricultural IoT Optimisation
The agriculture industry requires IoT devices for inventory management. Furthermore, these gadgets can also provide security and safety for their equipment. Using the equipment, they can monitor the weather and the state of the land and make adjustments accordingly. Furthermore, certain devices can predict natural disasters in advance. However, these devices are currently highly vulnerable. In many instances, the cloud services used to store data are vulnerable to cyberattacks. Thus, security varies considerably.
However, blockchain technology can assist here. Protecting these IoT devices and providing them with a more efficient networking system will be the primary benefits of blockchain in agriculture.
FAQ:
How Blockchain could change agri-business
Blockchain can change agri-business by providing Food traceability, Optimization of the supply chain, and Better pricing and payment options.
What changes will Dapps bring in agriculture?
Dapps offer unique characteristics due to their decentralized structure, which could facilitate a great deal of innovation.
Decentralized user control

Superior Security

Complete transparency

Global interconnections

Cryptocurrency incentives
How agriculture can benefit from blockchain
There are many benefits but here are the four of implementing blockchain technology in agriculture are:
Enhanced quality assurance and food safety

Augmentation of supply chain traceability

Enhanced Productivity for farmers

Fairer compensation of farmers